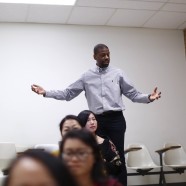 Marvin is an accomplished academic, currently teaching as an Associate Professor in the Alberta School of Business, and as a Adjunct Professor with the department of Physical Education and Recreation.
Marvin also does a variety of teaching for Executive Education at the University of Alberta, including open enrollment programs as well as designing custom teaching courses for specific organizational needs.
Learn more about Executive Education at the University of Alberta and watch some videos of Marvin in action. Feel free to contact him about enrolling in one of his courses or developing a custom program for your organization.
The Management Essentials Program (MEP) has been designed to provide a rich but concise survey of graduate level business courses.
Created for senior and executive leaders, the Executive Program has been designed to provide you with the skills and abilities to meet organizational challenges now and in the future.
In the Ethics program, participants explore the fact that today more than ever, organizations and the leaders of them are being held to a higher standard.
In Strategic Thinking, particpates will  understand of how organizations can create a strategic plan to gain a competitive advantage in their industry.
Your organization is unique. Our custom learning solutions are created to address your distinctive needs. Custom programs are crafted specifically for you, and with you, to create a wide reaching transformational shift within your organization.